Autumn Term 2021
We would like to offer you all a warm welcome to Mordiford primary school. So far, the children have settled brilliantly into school life. We have been working on routines and learning what 'big school' is all about.
As I mentioned I will be completing the Reception Baseline Assessment within the next few weeks. We will also begin our topic of 'Unique Me' we will learn about what makes us the same and different, our families, homes and pets. Please could you either e mail or send in a couple of photos of the children with family or doing something they love at home.
If you have any questions or queries about our learning, please do not hesitate to contact me to discuss these.
Personal social and emotional development
Throughout our topic we will discuss the question 'What makes us unique?' We will concentrate on developing many of the children's personal and social skills. We will encourage speaking and listening and build confidence through talking in small groups, whole class discussions and talking to friends. We will encourage the children to identify and share their own needs and wants and develop the children's ability to communicate and learn about their own homes and communities. As well as raising awareness about a range of different appearances cultures and beliefs.
Literacy/ Reading
We will be doing lots of storytelling, singing and rhyming to begin with. This encourages use of vocabulary and awareness of sound and word play. Speaking and listening is a big focus in our daily activities and encourages many social skills. We will begin work on our initial sounds of s, a ,t, p ,i, n. These will be taught in discreet sessions, and we will re-enforce the sounds in all aspects of our learning. We will aim to listen to your child read in school at least once per week individually and there will also be lots of group reading opportunities. Please remember to comment in their reading diary so we can see how they are getting on at home.
Numeracy
This term we will focus on the numbers 1-5. We will begin by sorting and classifying objects to help us understand 'how many' there are in groups and sets of objects. We will introduce the numerals and what they mean. We will compare objects and talk about what we can see. We will also develop your child's ability to subitise amounts which means being able to identify how many are in a group without counting. We will begin to learn the days of the week through our morning discussions about the date.
Physical development
Physical development plays a large part in all we do in reception. We spend time developing fine and gross motor skills through yoga, cutting, drawing and painting and various play-based learning. The biggest focus will be on shoulder and finger strength and dexterity to enable the children to all develop the tripod grip for writing.
Here is a useful video for you about pencil grip: https://www.theschoolrun.com/video-pencil-grasp-development
PE sessions will follow the Real PE scheme which develops many different skills through fun physical activities, stories and songs.
We look forward to all the fun and learning adventures we are going to have in Lugg Class this year. Please feel free to ask about anything you are unsure of, we also love to receive photos, news from home of there is anything the children would like to share in class.
Our Teachers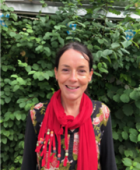 Mrs Marriott
Teaching Assistant
Miss Groves
PE Apprentice 
Things To Remember
Tuesdays: The children will be doing PE and will need to come to school in their PE kits.
Fridays: Forest School. Please can the children come to school in appropriate for being outdoors whatever the weather. Getting muddy is a distinct possibility!
Helpful Information